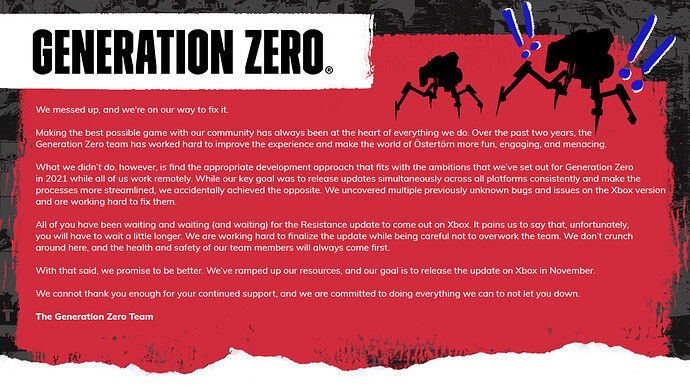 We messed up, and we're on our way to fix it.
Making the best possible game with our community has always been at the heart of everything we do. Over the past two years, the Generation Zero team has worked hard to improve the experience and make the world of Östertörn more fun, engaging, and menacing.
What we didn't do, however, is find the appropriate development approach that fits with the ambitions that we've set out for Generation Zero in 2021 while all of us work remotely. While our key goal was to release updates simultaneously across all platforms consistently and make the processes more streamlined, we accidentally achieved the opposite. We uncovered multiple previously unknown bugs and issues on the Xbox version and are working hard to fix them.
All of you have been waiting and waiting (and waiting) for the Resistance update to come out on Xbox. It pains us to say that, unfortunately, you will have to wait a little longer. We are working hard to finalize the update while being careful not to overwork the team. We don't crunch around here, and the health and safety of our team members will always come first.
With that said, we promise to be better. We've ramped up our resources, and our goal is to release the update on Xbox in November.
We cannot thank you enough for your continued support, and we are committed to doing everything we can to not let you down.
-The Generation Zero Team