With more and more apparel items being added, I'd really like an easier-to-understand apparel screen.
Primarily, I'd love the different apparel sets to be more clearly put in one category. For example, if I want to wear the whole "Slayer" outfit, I have to go through each category, search through the list (They're all at different positions because the positions are determined by when you first collected it) and piece them together.
Also, there's no way for me to know whether I have the full set or if I'm missing something.
I'd really love a new UI called "collections" or "sets" where it lists all the different sets, for example:
"Slayer set"
and then a list of all the apparel item that belong to the Slayer set, with those I don't have yet blacked out, so I can only see the outlines and know which type of item it is.
Here's a mockup of what I had in mind: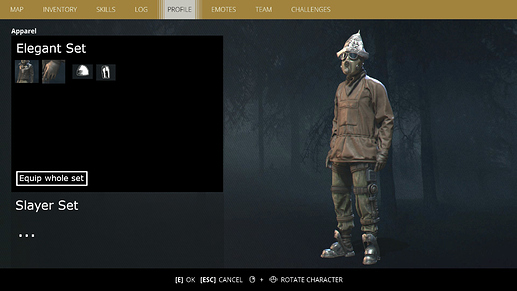 Clicking on an individual clothing item would display a preview of the character wearing it and the option to equip it.
There's also an option to equip the whole set, or at least all of the items one has collected so far.