FOA2, for the ones that don't know the location, is a large military base located far north on the map. It features a currently unaccessible fortress area, with a large double door for entry. The fortress is above ground, and surrounded by tall walls.
Personally, I think this would be the perfect location for a boss fight. That said, it would have to be a brand new kind of enemy, an experimental "super machine".
This area would only be accessible for players that progressed far enough through the storyline, since it would be a mission-triggered boss battle.
The fortress, which I am going to call the "Arena", is mostly circular. So the boss can spawn in the center, and have runners spawn around the base of the walls (probably through cargo lifts that raise containers with runners).
The mission would task you to find and destroy the experimental machine. The machine is not yet finished, so it can not move much from it's central position, where it is attached to the Arena's power supply via cables that run down it's legs.
Talking about the legs, they would be the key to destroying it. The body of the machine would be indestructible. The only way to take it out is by destroying the power cables on each of it's legs.
My concept art for the boss: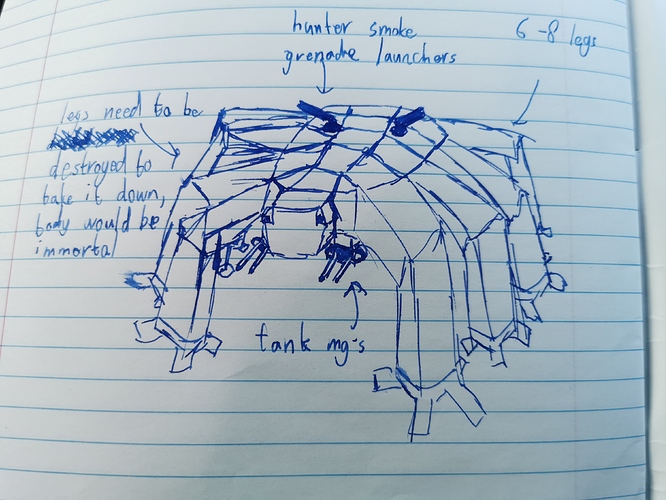 8 legs, wir tank machine guns and hunter smoke grenade launchers scattered across it's hull. It's more of a mobile command bunker than a machine.
The Arena would have decent cover with buildings scattered about, but you would be attacked from multiple sides with runners comming from the walls and the boss at the center.
Loot wise, the tank would drop unique clothing items and a guaranteed experimental weapon, in addition of a large ammount of ammunition and explosives.
That's all I've got for now, suggestions are welcome.
Just my 2 cents.
Cat.