oh poor you, dont you have enough computers for all of her guests? the only party worth having is a lan-party! (im old and remember the times when that was your only option of gaming together… token-ring FTW!)
Yeah, it was really sad. Sitting there alone, in peace and quiet, playing my currently favorite game, not having to converse with anyone except a few guys online. Heck, I even got to play for 5 hours straight, which is my longest session in 2,5 years! Really terrible… But I'd do it again!


Haha! Those were the days. It would be awesome to put up 4 computers and play GZ with 3 friends!

None of my friends are gamers now adays though…

@liggisten Have you found this room in the game?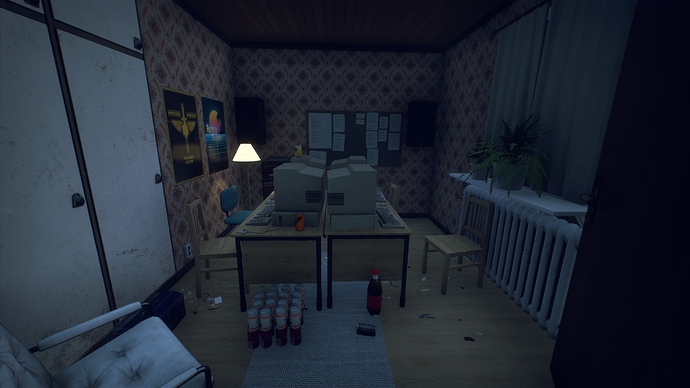 Yep, nerdcave!

cant remember exactly where tho… was it klinte?
No, on Himfjäll at Österhallen, the place with a fortified church. When you approach the town from the east, it's the first or second house on the right.

I'm old enough, that we started our LAN partying with two PC's, a LapLink cable and C&C back in the day.
Edit: or was it DCC through serial/parallel

Hehe

good times! We repeatedly tried networked gaming with nullmodem back in the day, but we could rarely get it to work… I remember how simple everything got when twisted pair became popular, and drivers for tcp/ip was included on a system level…
I had a dash of nostalgia about a deckade ago when i found my old mac plus ((introed '86) hw modded to accept 4mb(!) of ram) and a scsi->ethernet bridge while "cleaning" the basement storage space.
Even tho that old computer cant support a os version new enough to include a tcp-stack, i still got it hooked up to the 100 mbit fiber connection we had at the time, and i even found a early 90's browser that still worked on that old OS!
Each page fetch/reload took only a few minutes and it was mostly ad-free browsing!
So, definitely a fun project, but its getting harder and harder to find working specimens from that era…
My old IDE pci-card only works with windows XP or older and i have TONS of old (and presumably working) ATA-drives…
But in the end, it all goes to the same place, eventually; recycling… Nobody has room for it all… :,-(