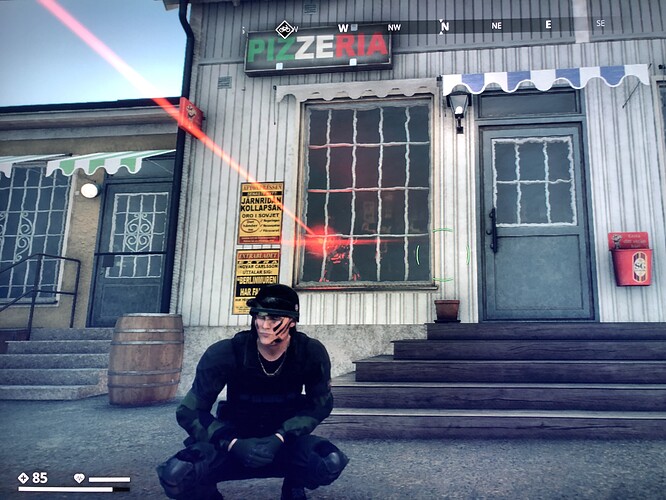 I was so disappointed with the welcome in this Klinte pizzeria, staff very rude and a bit shooty
Avoid

Is this the Pizzeria in Hagaboda or where is this?
Klinte, he said.


Who can read has a clear advantage

lol, very good and honest review. On the plus side they didnt mind putting pineapple on mine.
Dam I must tip more


I was i Klinte but no runner. I think he has seen me come and run away. But the Pizza Diavolo wasn't bad.


We need more of outlets of Neebs Gaming Uncle Thick

To be fair, the pizza is to die for.
Ouch !



………………………
Bows to show respect to fellow Neebs fan.
Their Land Mine pizza was a little crusty, but not too bad.
Uncle Thick definitely does need to be an NPC in the game.
NPC description: Somebody that wanders around not really knowing what they are doing but doing stuff anyways.
He is definitely someone who is like a flag in the wind. Everything he does is just for his (commercial) advantage.
I don't wonder that / if he is working together with fnix. (@NeebsGaming) Imagine seekers flying around and doing advertising for his products.
On the other hand he could deliver people to fnix as prisoners for experimental purposes.
Of course he is a target of the soviets.
I agree that they should pay homage to uncle thick by having a tiny Easter Egg like an audio recording or a poster in a city. Neebs Gaming is the first reason I started playing GZ and Battlefield games. I personally don't think they would add him as an NPC but there are many Easter eggs in other games such as the Neebs Gaming group vocalizing the Battlefield Legacy theme from a gramophone on Caporetto so I definitely could see them in GZ
Or what about Catfish Jenkins?