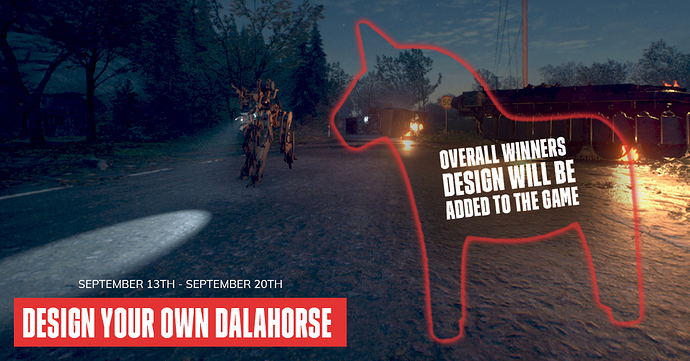 Hi all,
some of you with should be familiar by now with finding the "Dalahorse/Dalahäst" collectables on your travels through the world of Generation Zero, now it's time to design one!
Your task is to use the template below to design your very own version of a Generation Zero Dalahorse collectable. You can create your entry digitally, or you can print the design out and work with pens/pencils/crayons/spraypaint, it's up to you.
Prizes you ask? The top 3 designs as chosen by us will each WIN A REAL GENERATION ZERO DALAHORSE, actually made in the birthplace of this iconic Swedish decoration, Dalarna!
in ADDITION to the Dalahorse our first place winner will have the option to (if they so wish) have their design IMMORTALISED IN-GAME as a new collectable item. This is a unique opportunity to make your mark on the world of Generation Zero!
Note: Due to the technicalities of game development we cannot promise to represent 100% the winning design as submitted, but will do as close to your original entry as is possible. The winning entry will need to provide written consent for us to use your entry in the game (this will be discussed further with the winner). Judging of winners is undertaken by Avalanche Studios and our decision remains final.
See below for the design template, please fill it in and submit as a reply to this thread or our accompanying Twitter, Facebook, and Discord threads. One entry per person. Closing date/time for submissions is 12:00 CEST September 20th 2019.
(Click the image then choose "Download" to save it for local editing or printing)