Its Salthamn in Archipelago.
Puh, well, bridge in the east, soccerfield in the west does fit. Did this tongue in the north change in the past? That's completly different.
It is indeed Salthamn, I have it in the map-route.
These maps aren't always too precise, and there have been several topographic changes to the game world, and those maps aren't changed with it. There is a bit of protruding land on the map now, but it isn't in a tongue-shape.
do you mean south or am i stupid?
You're right.
I took a look at Gysbert's map, the eye is southern of västra mark.
You are right! You are not stupid.
Edit:
*I went there to see if I was right about not being intended, and sadly the Eye was removed with the "New Dawn update".

But I documented it in the "Mountains and Mountain Features route"
lmao no worries! i went to check it out

also, while im here, the 18th june map is the newest version right?
The one I looked at is last changed at june 19th.
The map you'll find Is always the latest update. Sometimes they are just little tweaks or correcting mistakes (I do make them). I just uploaded the last update before New Dawn, with minor changes; I changed the position of the legend to top right corner and a few more little things.

So, I see that the map appears to be discontinued. I didn't get a response to a note I sent for access to GDrive the other day, so I guess that means you've given up on it? I know it's a huge job, but could you give access to the last published map anyway? Sorry to see it go, it's been extremely useful to me.
What's the "Soviet Car"? Is it just a normal car with soviet soldiers inside or is it a special vehicle model?
I'm not sure at the moment.
I thought it was another model of car, but it could also be a björk just with a red star.
I could check it maybe on tuesday.
I also thought I could find a screenshot at Gysbert's hike route guides, but it isn't there.
You know it if you see it.
Edit:
Checked it today. I really thought it was another car, but it's just a normal one with two soviet soldiers there.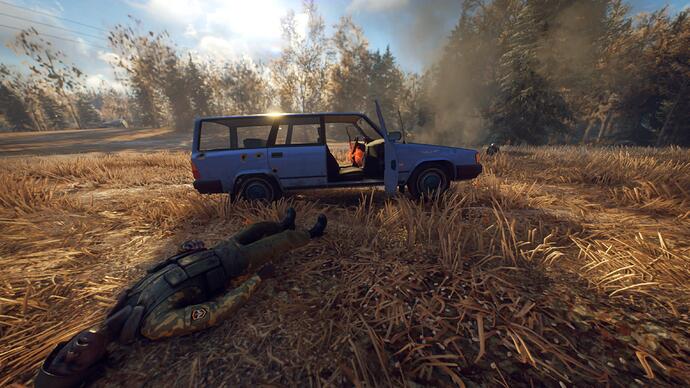 It's a normal car. I put it on the map because of the two soviet bodies there. Just to remember they are there. It would have been nice if we got indeed some Soviet markings on the cars they use.
Maybe it's intended.
Their are invaders. Should they come here with a normal soviet car? They could also draw a target marking on it then. So they used a normal swedish car instead to not get too much attraction. Didn't work obviously, as the machines target everything and everyone.

That might be true, if it weren't for the Hovercrafts, Firebirds, Machines, Chests and Outposts all with soviet markings on them. It doesn't look like they were too concerned about attracting attention.
I did not think, to add this non-special car to the route. But on hind sight, the two special Soviet soldiers make it special, so might add it. Lore-wise, I believe they were the first sighting of those armoured Soviet soldiers. Can you confirm?
For me all the signs of soviet presence we saw before Landfall were some kind of vanguard.
There were small outposts, in general hidden, and therefore these two guys were interested not to be seen immediatly as soviet soldiers and used a normal swedish civilian car.
Everything else (hovercrafts, machines and more greater outposts) came with the landfall in Landfall-Update.
I just don't know anymore, if this armored soldier with his exosuite has been there all the time befor landfall or if another soviet soldier was replaced by him.
At least these soldiers were, in my eyes, the first soldiers with a soviet uniform that have been seen. Even at the hidden castle ruin outpost western of lilla dyrbo there were no corpses, if my memories aren't false.
They were there long before Landfall. Soviets came to the game with the Nov '20 Update.
This is so well done. Very thorough and complete. Thank you so much for sharing!