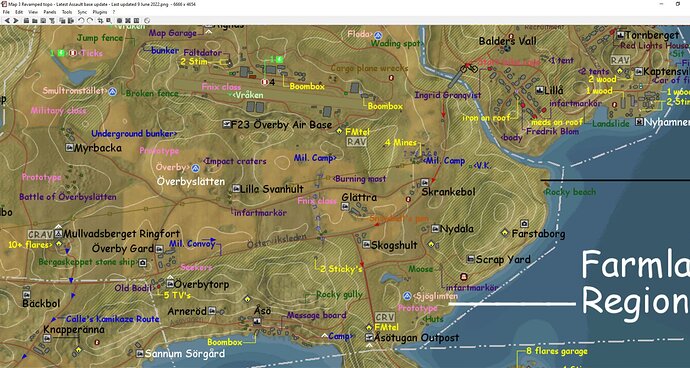 Get it on Twitter https://twitter.com/Gy5BerT
or On Steam
Wow! This is amazing

I have to mention that I skipped some of the tourist attractions, and 1 ANL in the south coast. That has a duplicate name, and I hope that it get fixed in a future update. I will add it then of coarse.


If you find mistakes, please tell, you will not hurt my feelings, only my pride…

This reminds me another interactive map of GZ i saw long time ago.

Did some digging and found another user made interactive map: It's here - Interactive map with coordinates!
I have changed the download file to the higher quality one.
You did a really great job @Gysbert, thank you very much for that


I loved doing it. And will keep updating the map.


You might notice that I also made some changes to the map where certain Icons where not, or not on the right spot on the ingame map. I corrected all those I knew.
Asöstugan outpost base moved to right spot.
Tourist attraction Farstaborg moved to right spot.
Changed the camping icon at Himsundsbryggan to a Ferry/port icon (Ferry crossing is here)
Hällaberga Festival moved to right spot.
Övertärnafyren Lighthouse icon added.
Stormyra bunker had Industrial icon changed with bunker Icon.
Two Angerås Churches one needs to be Sillavik Church.
Two unnumbered Beredskapsförråd also without bunker Icon.
Anl 144 Vidsele south coast has duplicate name. Added a 2.
Anl 182 Hässlehed, Hermelinen bunker and Asöstugan outpost had no airport icon,
but these locations have 1 or more planes ready to take off, and have a runway.
Knarrebo Homestead has a FNIX neural node Icon, but there is no FNIX presence
there.
Above and beyond mate. I've always wanted a map I could manually input data into - is there any way to turn this it an interactive map?
I wanted to have it on my wall, and like you said to write stuff on it with a sharpy. Not sure how big it needs to be in printed form in order to be able to read the labelling. But if the lockdown opens up a bit more, I will see if I can get it printed. If so I will show the result here.
About the interactive map I have no idea. I'm sure it can be done by someone who has the skills. I loaded the image into
https://yangcha.github.io/iview/iview.html to see how it looked. But that page shows the maximum image size and doesn't include a zoom function. Also not sure if the source code is available.
Great stuff, Gysbert!! Always find myself googling for maps of Östertörn so this is a definite save for me!
So any ideas on what I should or could add?
How about correcting the water line, rather than using the current, flawed map? For example, the lake at Forest and North Coast borer doesn't end half-way, as seen on map. Instead it goes up to Dammtrop.
"Tank graveyard" (Farmlands, -1819, 1225) has actual name in game lore: Battle of Överbyslätten.
Source: The Ringfort main mission -> Armor plates mission item description.
Ah yeah, that water. I had seen that too, but did not think it was a flaw, but rather a seasonal low or high water level… thing. But the missing water I'll have a look at that.
Tank graveyard, I will correct that too.
Thanks.
This is a big IF - but only because I do this myself that it may help more.
A checklist of all locations with co ordinates? As in…one to print
A big IF indeed. For now I'm focussing on a visual Map. I share these maps, but I make them really for my own need and the pleasure it brings me of getting a complete picture, figuratively and literally. I am learnings new things like using a graphics editor, and although I am not very good at it, it serves my purpose. The map doesn't give you the exact coordinates, but more a rough direction of where things are to be found.
I wanted to print this but the 1:1 scale of the map relates to a picture of 242 cm x 167 cm. So printing will be out of the question, if printing on A0 or even 2A0 paper is unreadable.
For 1:1 scaling, you could split the map into sectors and print individual sectors on e.g A4. And afterwards, assemble the map like a puzzle.

Just like big billboards are. They aren't printed on a 10m x 5m paper in one go. They are printed on smaller pieces and then assembled to get one, big picture.
Well yes, I could puzzle the pieces together. But the total map mustn't be too big, because where would I put it. I am also thinking of a foldable map as one possibility. But I'd rather have one hanging on the wall like a collectable. Call me crazy.

The digital map is easier for quick reference. I load the map in my graphics program, because I haven't found a simple and free picture viewer that zooms close to the 1:1 scale. Google drive works, but zooms not nearly to 1:1 scale, Microsoft Photo's is better that way, but doesn't allow vertical and horizontal movement with the mouse. Go figure.
I have time. The print shops aren't open here yet, so I have to wait anyway to see what is possible. But I also like the new island to be included. So there'd that too.
I'm using freeware software called: IrfanView (v 4.51) and it zooms-in way past 1:1 scale. I can even see individual pixels, when needed.
Just tested in my InfranView and when holding down right mouse button, i can pan the image where-ever direction i want it.
Give it a check.

Ok, that works great. I had to install the plugins too. I especially liked that with left mouse button held you select a part of the map and then click that part to zoom out on that selection. Very quick.