I go first:
Play "a plagues tale, innocence".
Have summer vacation.
Watch my children grow up…
Now you go!
Save up money and get yourself a PC…


Play any game you like.

A Plagues Tale: Innocence was very good, I loved that story.
I play on PC, but when I finished the last update, revamps and the side-mission "Good News", I started with my backlog, finished 3 games now and just bought Sniper Ghost Warrior Contracts 2. So I guess I'll be playing that.

Hands down

, the best idea for every console player.

---
But for other ideas;

Well, after 2 years and the news yesterday - I am currently waiting on a cost to build a PC to run GenZ at its best.
Depending on the number will depend where I go from there
During the current shortage on PC hardware market, especially GPUs, your best bet to get complete system would be going with prebuilt PC. Building your own will cost you a lot. E.g GPU released with $399 MSRP is currently sold by scalpers as high as $1200.

Though, with prebuilt PCs, you have to be careful. Since often they have several issues, ranging from inadequate CPU coolers to garbage PSUs. Also, many come with loads of bloatware installed, especially Dell prebuilts.
So my man had been building computers since the days of dial up, and considering the costs - did call in a favour to get it all together. But I'm all or nothing, so it's gotta run the game perfect or not bother.
Off the back of it, because I've seen so many issues with PC players just "playing" the game. The benefit with console is of course the one for all platform. I end up spending another 3 grand on a PC that won't run Fallout76, I'm gonna have a breakdown - so as you rightly put it - you gotta be careful.
GZ ain't the most demanding game on the market today. My PC from 2013 (powerful back then) struggeled with GZ, so I ended up buying a 1080 Ti GPU, used for mining back in the last period that crap was popular… But the card worked wonders and GZ now runs super smooth at 1440p/165Hz

It's gonna be a 4 figure price tag that's for sure, I've chucked it to a few custom build companies in the UK as well with the specifics to run GenZ at maximum, perfectly.
I'll keep you updated
No thanks. I already have one and I'd still far rather play it on my Series X than a PC…
Sitting at a my keyboard and mouse isn't my idea of down time, having sat in front of that same keyboard and mouse for ~8hrs already.

OK, update all. £1700 inc vat. But he said there is an issue with what I need…I take it this is the current drama regarding silicone chips?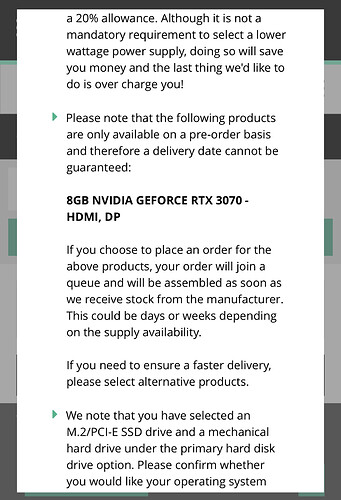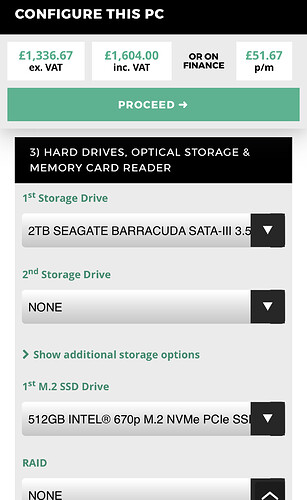 @OBiW4NSHiNOBi @Aesyle honest reviews guys is this worth the money?
Yes. There is GPU shortage all around the world, especially with RTX 3000-series GPUs.
People have even gone so far that they are buying prebuilt PCs with dedicated GPUs, just to pull the GPU out from the prebuilt and put in their own PC.

That's how scarce things are currently.
---
As far as your build goes, it looks good.
What i'm more interested in, is the PC case you picked and especially, PSU. Since PSU is the most important component in the PC.
---
Oh, as far as HDD goes, i, personally, wouldn't go with Seagate.
Since out of 4 major HDD manufacturers: Seagate, Western Digital, Toshiba and HGST (Hitachi); Seagate dirves have the highest failure rate.
By the looks of it, you're about to get the latest, 2016 version of the Barracuda and it doesn't do well.
Here's Blackblaze HDD statistics: 2016 Hard Drive Review: Testing 61,590 Hard Drives
Review of Seagate 2TB HDD from last year: https://www.trustedreviews.com/reviews/seagate-barracuda-xt-2tb-sata-6gb-s-hdd
And ReviewIndex collection of consumer feedback: Review Analysis + Pros/Cons - Seagate BarraCuda 2TB Internal Hard Drive HDD 3 5 Inch SATA 6Gb s 7200 RPM 256MB Cache 3 5 Inch Frustration Free Packaging ST2000DM008
If you have the funds, going with 2.5" SSD is far better option. But if you still like to get HDD for the good cost per GB, then look towards HGST or Toshiba. Preferably NAS drive for additional reliability.
I, personally, have several Western Digital 1TB consumer HDDs in use [WD10EZEX] due to their cheap price and good reliability. The oldest WD 1TB drive i have, is 6 years old and still going strong. Though, i'm in the process of replacing all my HDDs with 2.5" SSDs. While HDDs have the best price per GB ratio, compared to the SSDs or NVMe SSDs, it's their slow read/write speed that is getting to me.
---
As far as if the whole build is worth the money, it's hard to tell. It all comes down to the GPU price and availability. If you could get the RTX 3070 with MSRP or close to it ($499) then it's worth the money. But getting that at/near MSRP, at current date, is next to impossible.
With this, there is a trade-off; either pay essentially double (or triple) of MSRP and get the GPU in reasonable time; or pay close to MSRP and wait a year (or more). Since based on latest hardware news, GPU shortage is going well into 2022 as well.
Right, so there's a lot of ways this can go long term.
Ironically, I asked for a realistic date IF I were to do ahead. He said months not weeks
Checked my local stores and for RTX 3070, cheapest (and also in stock) i could get, is €1299. Though, it's made by Palit. 2nd one is better, MSI Ventrus with €1329 (also in stock).
So… yeah. Double the MSRP but i can get one right now, if i wanted. (Which i don't want. I'm happy with my GTX 1660 Ti.

)
In the end, it's up to the buyer, if the price is or isn't right.
But free delivery…

I'd expect my own vision to improve at that price, though I did get an email an hour ago confirming this setup will run it 100%