I was inspired to write my own story for GZ, and I think the first part is good to go.
Hope you like it.

---
Chapter 1.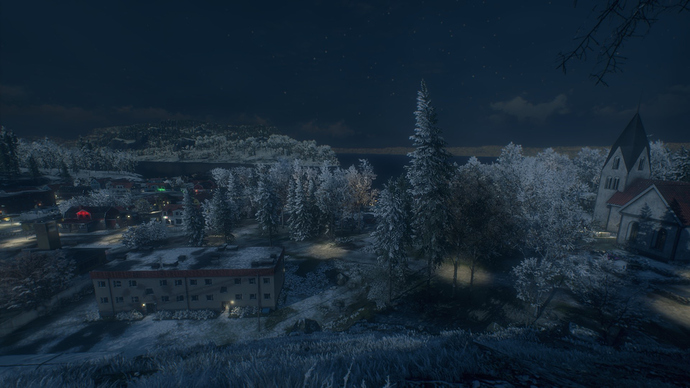 As I was waking up, for a brief moment it felt like I was back in the comfort of my own bed again, but as my senses slowly caught up to me, the grim reality of my situation began to sink in.
The dark, cold room was not mine. I was lying on a thin mattress on the floor, tucked in a sleeping bag under several blankets. There were beds here, but I felt safer staying on the floor. I was not sleeping well. I was constantly tired, and my body was aching. A sore cough reminded me that I had left the window open. The closed curtains were gently fluttering from the chilly breeze outside.
Quietly, I got on my knees and peeked through to get a look outside. The icy air felt like needles on my face.
The view of the bay was beautiful despite all, and the pale, crescent moon was setting on the western horizon. The sky was turning dark blue, and a new day was dawning. A few stars were still shimmering in the cold air above me. I carefully scouted over the small town.
On my arrival here, I saw a sign on the outskirts that stated this was the town of Klinte. I faintly recognized it from a visit, years ago. My refuge was on the top floor of an apartment building, in a small bedroom facing west. It was dead quiet outside, apart from a raven crowing somewhere in the distance. I sat back on my mattress and huddled up against the wall.
I prepared a simple meal from some food I had stashed in the corner, and as I was eating on my makeshift bed, the first daylight gradually filled the room. From it's appearances, considering the toys and drawings on the walls, this room had belonged to a little boy, probably no more than six or seven years old. One drawing was of him and his parents, their names clumsily written under their resemblances. My eyes teared up as I thought about what tragic fate might have befallen them, and my thoughts wandered back to the day the machines first appeared in Östertörn, almost two weeks ago.
I was with my older brother Anton, hunting deer in the mountains. It was our favorite weekend activity this time of year, and just a fairly short drive from our home in Hagaboda. We had stocked up on supplies, and left our car at a small parking lot beside a dirt road on the edge of the farmlands. From there we hiked. After a while we set up camp on a strategic perch, overlooking a small valley where we had spotted deer the year before.
On our second morning we were abruptly woken up. Military jet fighters and helicopters were flying overhead in all directions. At first we thought it was just another exercise, but something felt wrong. A thought soon began to stir in our heads, that maybe the great war between the east and the west had finally come, just now that the threat had seemed to diminish.
We decided to climb the nearest hilltop to get a better view. From the top we could see the distant lights from a town, down by the sea. There seemed to be a lot of activity down there. From the south, a column of military trucks were approaching the town. Anton had done his mandatory service in the army a few years back, therefore he felt compelled to go down there to offer his assistance. If something was happening, he would likely be summoned anyway.
Back at our camp, he strictly told me to pack up our things, then head back home and stay with our parents. I was trembling with fear and uncertainty as we said goodbye, and I could see the fear in his eyes as well, even though he struggled to not let it show.
"Just remember, we don't know what this is yet… I'll see you soon." He said, as he grabbed my shoulder firmly.
He forced on a smile and gave me a slight nod, then he turned around and walked. I stood for a moment and watched him as he disappeared among the fir trees.
The fear of war had troubled me since I was old enough to grasp it's concepts, and now I felt paralyzed by it. I struggled to focus, in disbelief that this was happening, but I managed to fill my large backpack with as much as I could of the most vital objects from our camp, including food, water, dry clothes, binoculars, my rifle and a pack of cartridges. I stumbled my way back along the trail we had come up. Rain and fog were rolling in over the farmlands, and soon I was soaked.
About halfway back to where we had parked, I saw a car coming up behind me, racing along the wet, bumpy dirt road. Without thinking I positioned myself in the middle of the road, hands in the air. The driver hit the brakes and the car came sliding diagonally towards me, luckily it came to a stop just a few meters in front of me. The elderly farmer rolled down his window and yelled something at me.
"What the hell is going on?" I walked over and asked him.
"They're evacuating all civilians! Only military personnel stay behind. I just got off the phone with my daughter in Östervik, and I'm going there to see if she's safe. You can hop in if you want, but hurry!" He responded, clearly distressed.
"Uhh… No, I have my own people I need to see to." I stuttered in reply.
Without saying more he took off again in a hail of mud.
"Wait! Do you know what's happening here?" I shouted after him, to no avail.
I kept on walking toward our car, I was getting close now. The rain was pouring down heavily, enough to mask the sounds of the gunfight that took place just ahead of me.
I noticed the muzzle flashes first. Then I could distinguish the sounds of gunfire. I instinctively threw myself down behind an old stone wall, parallel to the road. I could barely see through the fog with my rifle scope, but I saw two men in uniform down at the roadside parking lot, taking cover behind a car. The other cars there were burning. The soldiers were firing at the forest edge, and someone was firing back. I could only watch helplessly as the men were cut down by the relentless fire. In shock, I put down the rifle and struggled to calm my breath for a moment.
I peeked out again through my scope, and in dismay I saw the machine that emerged out of the woods. It looked to be almost three meters tall, shaped roughly humanoid and painted in camouflage, wielding heavy weapons on both of it's arms. A menacing, bright red eye was socketed in it's head. It walked over to the lifeless bodies, where it stopped and looked around. Behind it, two more machines appeared.
I was terrified, and not willing to linger any more. I quickly crawled back across the road, into a deep ditch that ran between the road and the fields. I hastily stumbled my way through the muddy ditch, back the way I just came.
After a few hundred meters I was able to slip back into the forest edge, and there I collapsed behind an uprooted tree, completely exhausted. When I regained some of my breath, I got my binoculars out and leaned over the tree trunk. I carefully glassed over the fields I had just crossed, and to my relief the machines were nowhere to be seen.
Our car was apparently destroyed, and there was no way I could walk all the way home to Hagaboda with these things lurking about. I then remembered what the farmer said, about the evacuation. My parents were hopefully safe. I had to believe that. The army must have gotten them out.
"Oh no… Anton!" The thought just hit me. My brother was going to fight these things.
My protective instinct awakened inside me, and a surge of adrenaline relieved some of my fatigue. Before long I was on my feet again. I was confused and still in disbelief of what I had just seen, but I could only see one way forward from here. I had to find him.
I retraced my steps up through the hills, and in the afternoon I arrived back at our campsite. The rain had stopped, and clear, cold air was coming in with a bone-chilling wind. I rested for a while in our tent, ate some food and changed into some dry clothes.
Later I went back up to the nearby hilltop we had climbed that morning. No more jets or choppers were to be seen or heard, but I could hear the distant sounds of fighting in all directions. Far away, brief flashes of heavy fire lit up the darkening sky.
I waited until nightfall, and then began navigating through the dark forest. The skies had partially cleared up and the moon helped me see a bit. I had not walked far when I suddenly noticed a row of flashlights, moving in a line among the trees. There were five of them.
"A military patrol! Maybe Anton is there!" I whispered to myself, and I thought about how to make contact without startling them.
I took out my binoculars from my jacket to get a look at them. One of them suddenly halted and was illuminated by the others. I saw what they were now. More machines, but not like the ones I saw earlier. These looked like dogs. They're eyes were bright white, and they patrolled the forest like a pack of wolves. I held my breath, and I could hear the mechanical sound of their joints as they moved. I lay flat on the ground until they had passed, before I dared to move on.
Later that night, I had made my way to the top of another hill. The town we had seen in the distance now lay before me. It looked somewhat familiar. I could see a grocery store and a fire station on the southern edge of town, vis-à-vis the gas station. On the northern edge of town, the church was located, right downhill from where I was standing. Past the housing areas lay the harbor. I glassed over the whole town with my binoculars, but I could see no movement. If there had been fighting here, it was over now.
I examined the church more closely through my scope, and to my surprise I saw a couple of the dog-like machines, lying down at the parking lot. They were clearly disabled. A thin haze of black smoke was rising from one of them. Someone had fought back.
I made sure my surroundings were clear, and I began to climb down the hill toward the church. I stopped down at the main road that ran through town along the foot of the hill. I had no cover, but it appeared clear in all directions. I quickly ran over to the church, past the black, burnt out husks of the machines. They had some writings on them, still barely visible. I could examine those later. I walked around the church and entered through the main door.
"Hello? Is anyone here?" I uttered in a low voice, as I peeked into the dark hallway.
No response. I closed the big door behind me.
"Hello? Are there people here?" I said, a bit louder this time.
All quiet. I proceeded to look around the church. There were no signs of people on the main floor. On the second floor, by the organ, a couple of sleeping bags were rolled out on the floor. Some empty food cans lay discarded in the corner. I had to climb up the bell tower, just to make sure nobody was there. The old wooden stairs creaked loudly from each step I took. There was nothing up there. I decided to move on, thinking it might be better to search the docks instead.
I hoisted up my backpack and readied my rifle again before exiting the church, this time through the back entrance. For just a moment I wasn't paying attention, and as I stepped out onto the stairs I caught something in the corner of my eye, and I stopped dead in my tracks. One of those dog-like machines was standing right there on the main road, across the graveyard. We saw each other simultaneously, and it's eye turned bright yellow just as it gave off an alarming noise.
In the blink of an eye I shouldered my rifle. I didn't take my time to line up the shot, but pulled the trigger as soon as the machine was in my crosshairs. I don't know what I hit, but the soft pointed, big game bullet did it's job. The machine erupted in a plume of fire and black smoke. Sparks rained down around it as it collapsed on the road.
Just seconds later, bullets were flying through the air. They bounced off the stone walls of the church behind me, and whipped through the hedgerows in the graveyard. Several red eyes glared at me from further up the road. I sprinted back over the parking lot, toward the center of town.
Out of the darkness, two of the large bipedal machines I had seen yesterday, came running up from the road that led down to the docks. I saw the large blades attached to their arms. They were extremely fast, and they were about to cut me off. I set my course for the nearest house, an apartment building on the left side of the road. Bursting with adrenaline, I ran for my life. I could hear a noise from the death machines at my heels, like a turbine revving up, and then suddenly one of them launched itself into the air. I felt the ground shake as it burrowed its blade into the asphalt, less than a meter behind me.
It's failed maneuver enabled me to outrun them to the back of the building. I ran so fast I crashed into the door. I ripped the glass door open, which thankfully was unlocked, pulled it shut again and ran up to the top floor, where I tumbled over in the dark hallway. I lay there for a while and stared into the ceiling. It felt like my heart was gonna burst through my chest. The machines did not follow me inside, but I could hear them skulking around outside the building. Soon it was all quiet again. Eventually I fell asleep, right there on the cold floor.
Twelve days have passed, and I have not left this building. I have survived on the belongings of the people who used to live here. I haven't dared to go out, not after my last encounter. It's mostly been quiet outside, and I haven't seen other people, civilian or military. I have seen no helicopters or boats either. No one appears to be looking for survivors, if anyone is even there. For all I know it could be the same on the mainland. I no longer hope to find my brother alive, nor anyone else for that matter. Small groups of machines patrol the town regularly. Yesterday morning, a huge four legged machine passed by the bridge on the southern edge of town. It was like nothing I have ever seen. I felt the building tremble from it's footsteps, and I could hear it long after it was gone. In this surreal situation, I had become depressed an apathetic. I could see no way out of this.
My mind returned to the present. I got up from the mattress and clothed myself, then I walked out to the living room and looked around for something to fill my time with. I pulled aside the curtains from one of the windows, then I sat down in the sofa to gather my thoughts.
I had utilized the whole building well, and looted all the apartments. I had gathered food and clothes. In a locker, I had even found some ammo in the same caliber that I was using. I knew I could hide out in here for quite some time if I had to. My backpack and rifle were standing in the hallway, packed and ready in case of emergency, despite my unwillingness to leave.
I sat there for a while and tried to read some comic books I had found in the basement. I frequently glanced up and watched the snow that had begun falling outside. It was actually quite peaceful. A couple of hours passed.
I felt a slight tremble in the building again, almost unnoticeable at first. Soon there was no doubt. An empty soda can vibrated against the glass table in front of me. There was a deep thump, every two or three seconds. It was closing in fast, from behind the building by the sounds of it. A minute later the whole room was shaking. Things were falling from the shelves. I ran out to the bathroom in the back of the apartment and peeked through the curtains.
An enormous, two legged machine was standing on top of the hill behind the building, towering over the treetops. I stood paralyzed and watched as it let out a deafening, humming noise. The whole town was under it's gaze.
Suddenly the giant machine twitched, and I could see sparks flying as it was struck by several bursts of bullets. The machine's sensors turned bright red as it was searching for it's target. The next moment, what must have been a rocket struck the machine head-on. The shockwave cracked the window right in front of my nose. The machine immediately responded and fired a volley of rockets back at its attacker. I screamed in terror as they flew right above the roof. Without hesitation, I grabbed by gear and ran down the stairwell. I burst through the first floor apartment and jumped off the lower balcony. There were other people out there. I had to find them.
The shots were clearly coming from down at the docks. I sprinted toward them in a straight line. Another rocket came whizzing out from behind a storage building. It passed right over my head, and I heard how it struck the great machine behind me. It returned fire with a heavy machine gun. Just as I reached the harbor, a hail of bullets swept over the parking lot. The shots tore through one of the cars that stood right in front of me, and I dived into cover behind a shed. The other survivors had seen me.
"You! Get in here!" A voice cried out from inside the storehouse.
Another burst of fire from the machine drummed into a freight container beside me.
"What? I'm pinned down here!" I yelled back.
Another rocket left a trail of smoke as it flew out. When I heard it explode far behind me, I instinctively sprung to my feet and ran toward the building.
Inside, I was met by a girl, about my own age. She came running toward me as she saw me, with an assault rifle in her hands, and a distressed look on her face. She grabbed me by the sleeve and pulled me to the back of the building, where a young man was reloading a rocket launcher.
"How the hell did you do that?" He looked up and asked me.
"You should be full of holes by now, running around like that!" The girl followed up.
"I just… I thought I'd never see another living person again." Was all I managed to say.
The machine fired at us again. The outer wall of the building was dotted with holes. It was aiming just too high to hit us, but debris were flying all around us inside the warehouse. It's immense firepower was terrifying to witness.
"No time for handshakes. Hurry, help me ready the boat! Erik, you watch our backs!" The girl said.
We ran through the back door, out to a boat house on the edge of the docks. A small, wooden boat was moored there. The girl climbed down the ladder into the boat. We could hear the machine still firing, it's bullets cutting through the sheet metal panels of the warehouse.
"Quick! Give me your pack and weapon, and get that damn rope untied!" She shouted.
I did as she commanded, and as I was fumbling with the rope, Erik came running with the rocket launcher.
"What the hell are you waiting for? That thing is coming!" He yelled.
We could hear the machine's heavy stomps again.
"It came down from the hill, it's gonna be here real soon!" He said, as he climbed into the boat.
The rope came loose. I pushed the boat down the slippery landing planks, and jumped in just as it slid into the water. Erik struggled to fire up the old outboard motor. Eventually it coughed out some white smoke, and started with a rumbling sound.
It became obvious that the motor wasn't working properly. We barely moved forward. Through the falling snow, we saw the giant machine coming down one of the streets, toward the harbor. It made some weird sounds as it appeared to be reacquiring it's target. Then our motor died.
"No! Piece of shit!" Erik exclaimed.
"What? Well row then!" The girl cried.
There was a pair of oars in the boat. Erik and the girl struggled together to get them in place. I looked over at the great machine again, and I could see our time was up. We were sitting ducks, right there on the open water. Any second now would be our last. Right now, any way out was worth a try. I grabbed hold of the heavy rocket launcher that lay in the bow, and lifted it up on my shoulder.
"There! Now row dammit!" The girl cried again.
"No… Stay still." I replied, as I fought to stay calm.
I took a deep breath, then I let the rocket fly. The projectile hit the machine right below the front armor plate, and blew it right off. It flew high up in the air and landed on top of a dumpster. The staggering machine spewed out a fountain of sparks, then it exploded in an enormous cloud of fire and smoke. It sounded off a deep, wailing roar as it fell sideways, crashing into one of the houses.
The three of us sat quietly in the boat and stared at the black smoke, rising from our wrecked enemy.
"My god… You actually killed that thing." The girl said in a low voice.
"I think I did. I just can't believe we made it through that." I replied.
"Hey, give yourself some credit. That was awesome!" She exclaimed, as she slapped me on the knee. "I'm Frida, by the way. This is my cousin, Erik. We're glad you found us!"
"Thanks… I'm glad I found you too." I replied, still baffled by the outcome.
She smiled back at me.
"Do you know what these machines are? And how have you two managed to survive out here?" Were the first questions that came to my mind.
"We should get away from here, more machines will arrive soon. They can pick up noise from a long way off." Erik interrupted.
"Could we row over to the mainland?" I asked.
"I wouldn't try that. We saw someone attempting to cross during the first days. They were blown away by a barrage of rockets from the shore, fired by one of those machines we just took out." Frida replied. Then she pointed her finger outward. "We planned on going out there." She continued.
A couple hundred meters off shore was another island. I could barely make out it's outline through the heavy snowfall.
Erik maneuvered the boat on course and began rowing.
"What's out there?" I asked her.
"I have no idea. If we're lucky, there might be some summer cabins, and maybe supplies. Hopefully there are no machines out there…" She paused and looked over her shoulder for a moment. "We get out to the island safely, and set up camp there. Then we'll tell you everything we know."