Here is a place to pitch ideas for new machines.
Here's my first idea.
Introducing the Scout!
Don't be fooled by its slender appearance, this humanoid machine is the most advanced model ever created. The Scout has an extremely complex processing algorithm that allows it to make quick strategic decisions.
Its physical nature allows it to be agile and very fast, but this also means its armor is lacking. If it detects a threat it will often run away, but on occasion it will engage in combat if it senses an advantage.
Type Variations:
Prototype) minimal armor, lack of weaponry.
Army) more substantial armor, speed increase.
FNIX) strong armor, dual semi-automatic arm gun mount, swarmer grenades <(will develop schematic later)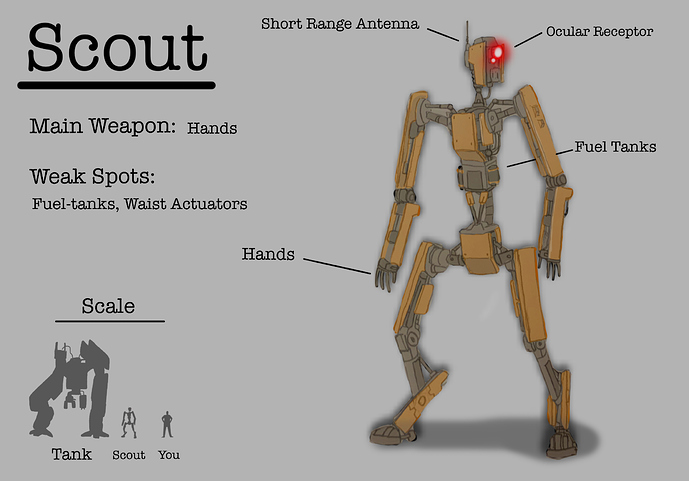 Defining Features
:
Short Range Antenna: this machine was designed originally for battlefield assessment. It is always feeding data to the other machines and has the capability to call for backup at any time if it detects a threat.

Ocular Receptors: Highly accurate visual and auditory receptors allow the Scout to rapidly asses its environment and calculate the best routes and strategies for its fellow machines.

Hands: The Scout is currently the only machine to posses articulate grasping devices. It will often utilize these to pick up objects and use them to defend itself or attack enemies. On rare occasions this machine will pick up weapons such as axes or even small hand guns.