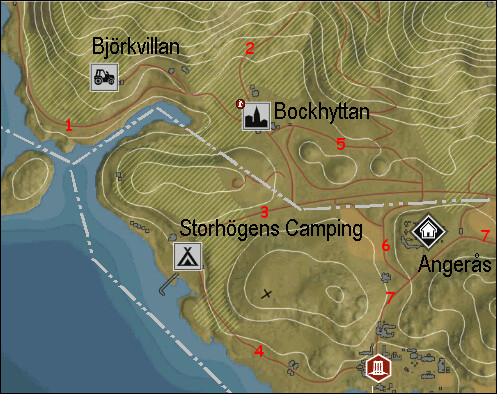 Road location question for die-hard GZ-players.


I'm trying to identify the locations of the roads mentioned in the Lore of "The Fallen" mission.
In the mission "The Fallen" you have to locate the Crashed Vråken Strike Fighter. The plane's location I marked with an X on the map.
However, in the Lore, you be given the clues that it is near the roads Gunderbergsvägen or Ängnäsvägen. So do any of you have any idea as to where these two roads are located? I have numbered the most logical candidates.
I believe that the long road (3) is called Österviksleden, from the Lore clue in side-mission "Secret Cargo".
For now I think that Gunderbergsvägen is (4) and Ängnäsvägen is (7) because they are both close to the fallen Vråken. Ängnäsvägen is most likely passing Ängnäs Church.
What do you think?